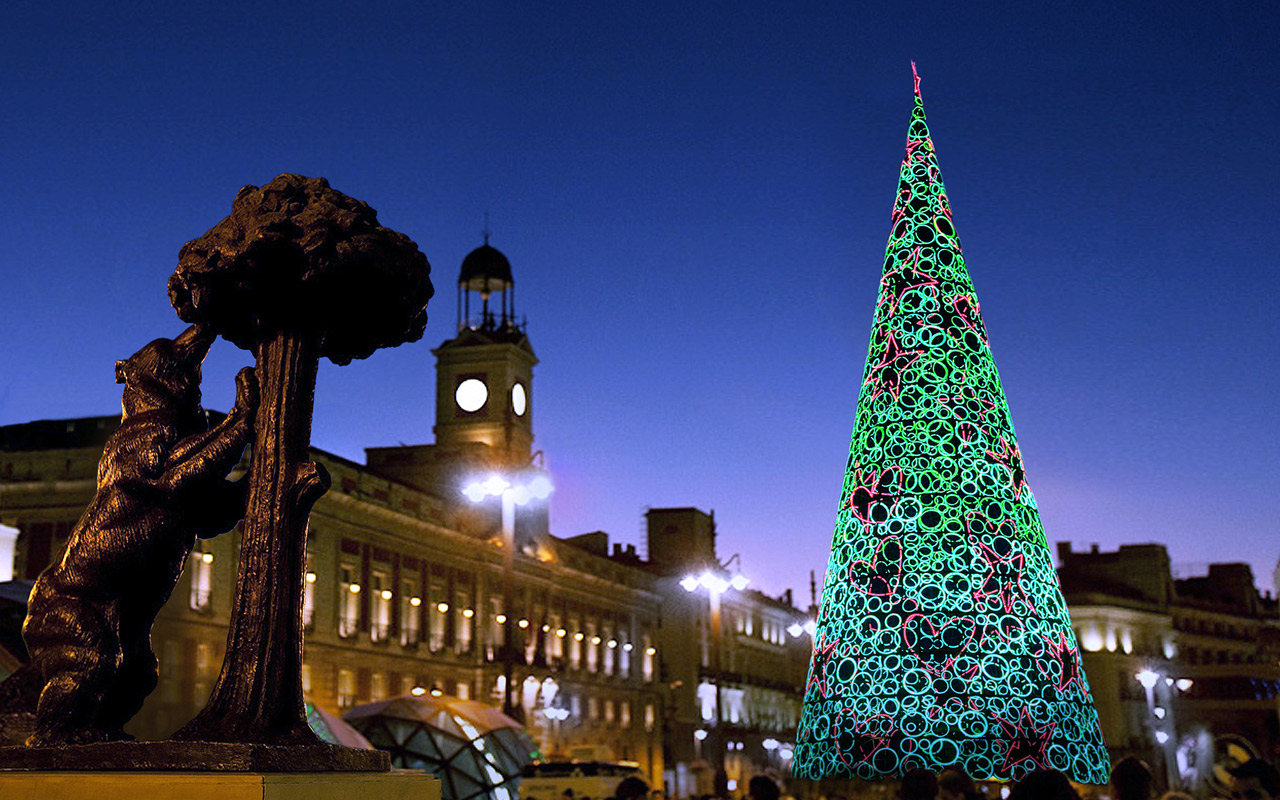 The best plans for sightseeing in Madrid at Christmas
Madrid, as the capital of Spain, offers a varied list of options so that any tourist, national or foreign, can enjoy the best local Christmas spirit. Today in Hostal Patria, we are recommended some festive activities to have a great time in Madrid at Christmas.
Enjoy the fun at Plaza Mayor
The historic Plaza Mayor is the perfect place for the oldest Christmas market in Madrid, which has been celebrated for 100 years, more or less. When the sun sets, a lot of hanging decorations light up in the darkness and create an atmospheric glow all over the square.
There are many stalls selling sweets and collectibles that represent some popular nativity scenes. Among them, the most popular is the Caganer, a collectible that literally translates as "The Shitter", a piece found in many Spanish native scenes that, ironically, is destined to bring good luck.
Buy gifts in the centre of Madrid
Madrid offers plenty of shopping deals, although you should be ready to make your way through the busiest streets. The area of Plaza Mayor, Callao and Puerta del Sol is especially crowded.
Other excellent shopping areas include Fuencarral Street and the elegant Salamanca district (the latter less economical, but a visit is equally recommendable).
New Year's Eve at Puerta del Sol
There are a lot of plans to enjoy New Year's Eve in Madrid. The locals (and tourists) usually gather at Puerta del Sol square to say welcome to the new year. They do it while eating 12 grapes, one grape for each strike of the clock, and it is said this brings good luck for the next 12 months.
This tradition comes from the early 1900s, and is so enjoyable because it is so fun to experience how people begin to steal grapes from each other, and more and more grapes accumulate in their mouths while they smile and laugh.
Ending the night like the locals in the historic Chocolatería San Ginés is tradition, eating some of the popular chocolate churros to fight against the possible hangover.
The Kings Parade
Here in Spain, the three holy kings are far more popular than Santa Claus, and when they arrive to the city on January 5, they attract thousands of locals to the streets that surround the Palacio de Cibeles.
If you are attracted to see the kings, it is recommended to find a place in time near the palace to have a look at the incredible floats (because it gets very crowded when the kings appear).
Roscón de Reyes and sweet coal
As you may imagine, Spanish Christmas traditions are pretty focused on food. It is tradition to go through a local bakery to try the Roscón de Reyes, which contains a small and funny surprise. Take care choosing your piece of cake, because the person who gets the little figure hidden inside shall pay for the cake!
Finally, another tradition says that if children have been bad they get coal instead of cake. In many bakeries you can find fine imitations of sweet charcoal (that ironically tastes very good, actually). Even so, before you leave Madrid you should try some variations of turrón, a traditional Christmas candy based on almonds.